Bread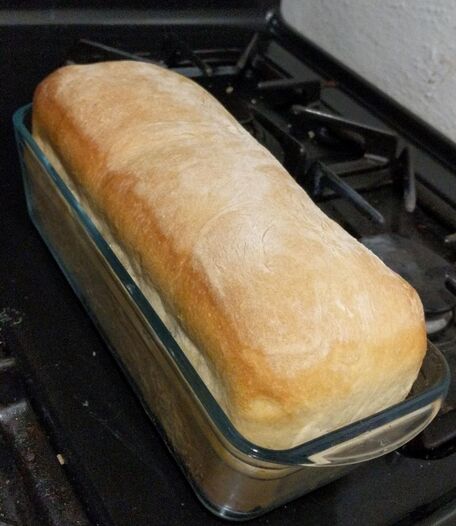 This recipe will make two loaves of bread.
Tools
Mixing bowl
Bread pan
Spatula
Cutting board
Ingredients
7 cups of flour
3 cups of water
2 tbsp of instant yeast
3 tsp of salt
2 tbsp of oil
Instructions
Add water
Add yeast to water
Mix until yeast disolves
Add 7 cups of flour, salt, and oil
Mix ingredients
Once it's mixed and turned into dough, dump out on board and kneed for 8 minutes
Place dough in bowl to rest for 5 minutes and cover
Sprinkle a little flour to the top, and roll around to shape it into a ball. Grap ends and fold into center.
Place ball into bowl, sprinkle some more flour, and cover. Let it rise/site for 1 hour.
Dump back onto cutting board and split into two
Shape loaves, grab ends and fold into center
Let rest for 15 minutes
Sprinkle flour onto cutting board surface and place dough loaf on top and flatten dough, into an oval, then roll it to roughly the shape of the baking tray. Do same for second loaf
Place in baking trays and let sit for an hour. After 30 minutes, preheat the oven to 400 F.
Place in oven for 40 minutes. Check on them at 30 minutes.
Take out of oven and add a little butter to the exterior of the loaves to help keep them soft.